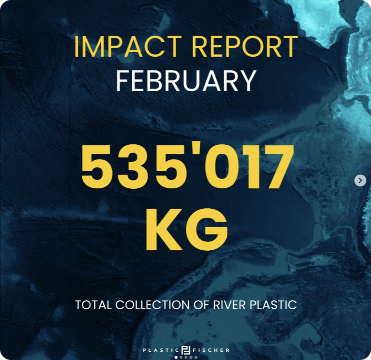 MARKETING
In order to continue to grow, we need money. It is important to keep sponsors up to date and give them regular updates on the progress of the project. We write a lot (a lot) of emails, regular newsletters and blogs, take care of our social media channels and often make phone calls to our team or potential sponsors.Um weiter zu wachsen, brauchen wir Geld. Es ist wichtig, die Sponsorinnen und Sponsoren auf dem Laufenden zu halten und ihnen regelmäßig Updates über den Projektfortschritt mitzuteilen. Wir schreiben viele (sehr viele) Emails, regelmäßig Newsletter und Blogs, kümmern uns um unsere Social Media Kanäle und telefonieren oft mit unserem Team oder potentiellen Sponsorinnen und Sponsoren.
PROJECT- MANAGEMENT
PROJEKT- MANAGEMENT
Karsten and Aviel invest a lot of time to exchange with the local project managers. It is important to be on the same page when scaling our operations. Documents have to be prepared, next steps need to be discussed, and the overview of all projects needs to be maintained.Karsten und Aviel verwenden viel Zeit auf den Austausch mit den Projektmanagerinnen und Projektmanagern vor Ort. Es ist wichtig, dass wir alle an einem Strang ziehen, wenn wir erfolgreich wachsen wollen. Dafür müssen Dokumente vorbereitet, die nächsten Schritte besprochen und der Überblick über alle Standorte behalten werden.
Once in a while, the team has to travel to existing or new project sites. We avoid in-person meetings as much as possible, but sometimes it is crucial to have a face-to-face conversation instead of a video call.Ab und zu muss das Team zu bestehenden oder geplanten Standorten reisen. Wenn möglich verzichten wir auf Reisen, die Zeit, Geld und CO2 kosten. Manchmal ist es allerdings unverzichtbar sich persönlich zu treffen.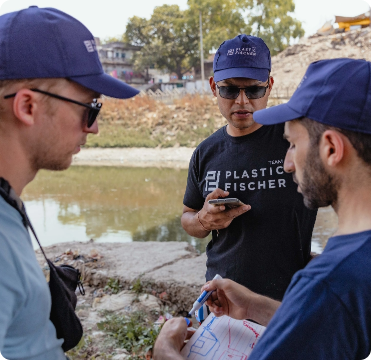 Every river and every drain is different. Our tech-team customizes the anchoring and system for each circumstance, so that the local team can deploy the tailored solution easily.Jeder Fluss und jeder Kanal ist unterschiedlich. Unser Tech-Team passt die Verankerung und die Systeme an die jeweiligen Umstände an, die das lokale Einsatzteam dann maßgeschneidert einsetzen kann.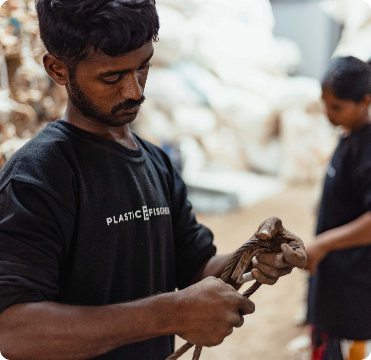 Our TrashBooms are made of locally available material. These low-tech solutions can be manufactured and repaired at low-cost. Learn more about Plastic Fischer's 3L Initiative here.Unsere TrashBooms werden aus lokal verfügbaren Materialien hergestellt. Diese Low-Tech-Lösungen können kostengünstig hergestellt und repariert werden. Erfahren Sie hier mehr über die 3L-Initiative von Plastic Fischer.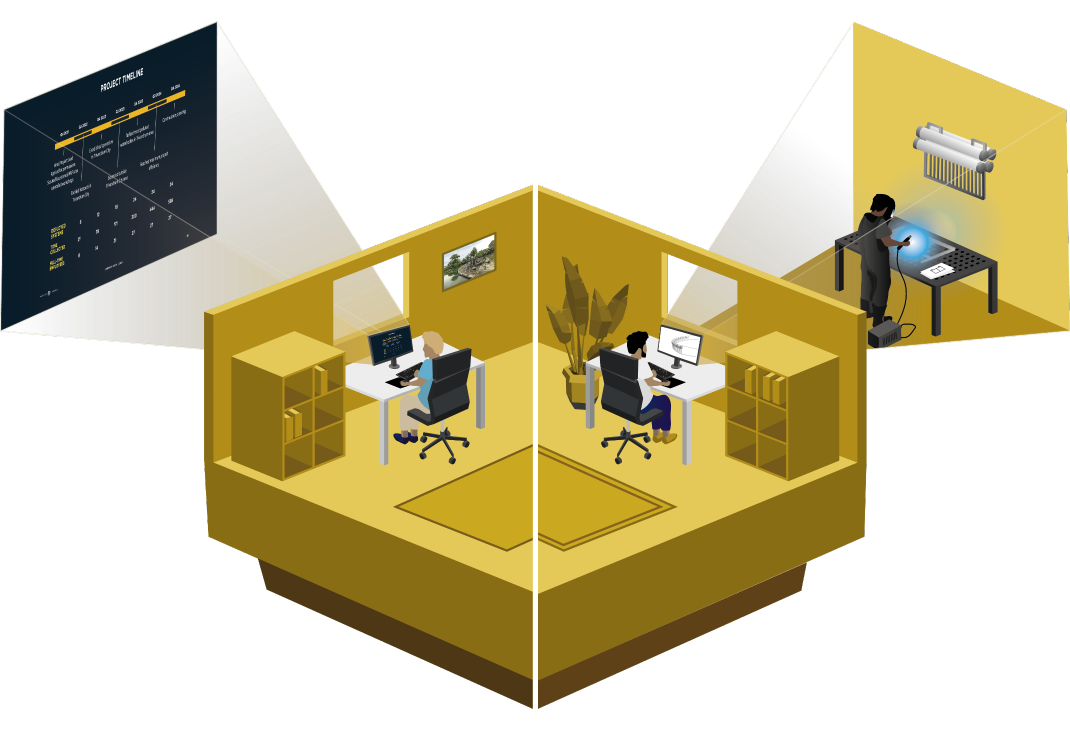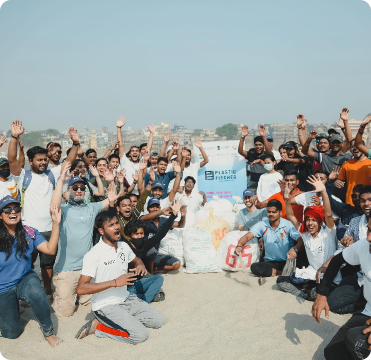 AWARENESS
CAMPAIGNS
SENSIBILISIERUNG
We regularly organize awareness campaigns with volunteers and local communities - often in collaboration with local NGOs. The Plastic Fischer team explains about our work and the consequences of plastic pollution.Wir organisieren regelmäßig Kampagnen - oft in Zusammenarbeit mit lokalen NROs - um Bewusstsein in der lokalen Bevölkerung für das Thema Plastikverschmutzung zu schaffen. Bei der Gelegenheit erzählen wir auch über unsere Arbeit vor Ort.
RIVER PLASTIC
RIVER PLASTIC
Plastic ends up in rivers because of insufficient waste management infrastructure. Most of the material is non-recyclable (non-valuable). There is no incentive for anyone to pick it up. We can do it - with your support!Plastik endet (unter anderem) deshalb in Flüssen, weil es kein funktionierendes Abfallwirtschaftssystem vor Ort gibt. Das meiste Material, das wir in Flüssen finden, ist nicht recyclable (und damit wertlos). Es gibt keinen Anreiz das Material zu sammeln. Wir können es - mit eurer Unterstützung!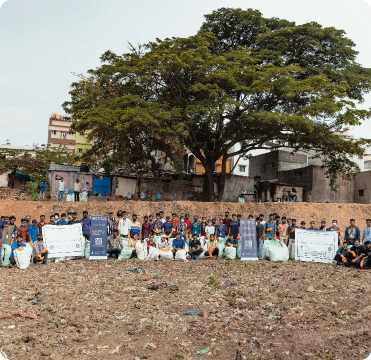 We scout polluted sites and organize an initial cleanup to prepare the site for our future work.Wir schauen uns nach verschmutzten Flüssen um und organisieren ein erstes Cleanup, um die Stelle für unsere zukünftige Arbeit vorzubereiten.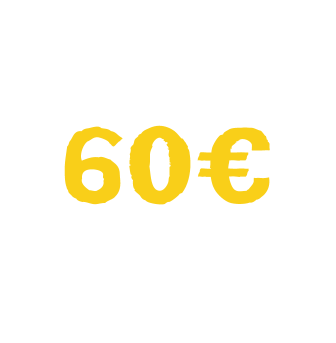 In 2022, we invested just 60€ in Ads - no joke! But we will have invest a bit more money to spread the word about our work. We also want to manage our Social Media channels more professionally.Im Jahr 2022 haben wir 60€ für Werbung ausgegeben (kein Witz). In Zukunft wollen (und müssen) wir allerdings etwas mehr Geld in die Hand nehmen, um mehr Leute zu erreichen und wachsen zu können.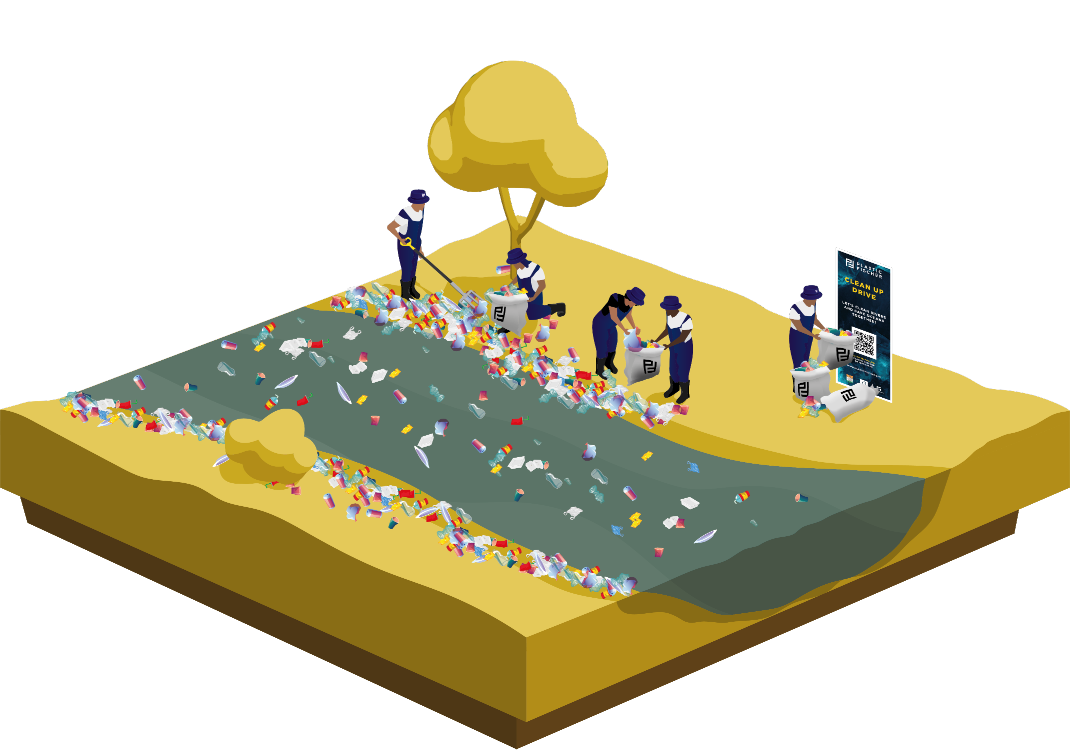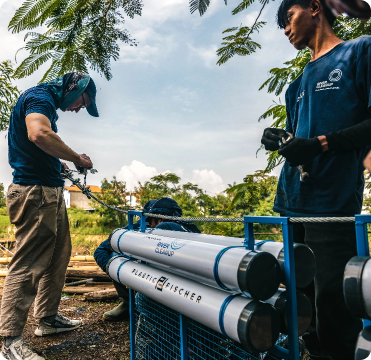 Once we have manufactured the TrashBoom system, we ship it to the site of operation, prepare the installation and deploy the system. After around 6 months, we retrieve the system from the water, potentially bring it to the workshop to repair broken parts, and re-deploy it again.Sobald wir das TrashBoom-System hergestellt haben, bringen wir es zum Einsatzort, kümmern uns um die Verankerung und bringen es zu Wasser. Nach etwa 6 Monaten holen wir das System aus dem Wasser, bringen es - wenn nötig - zur Werkstatt zur Reparatur und lassen es erneut zu Wasser.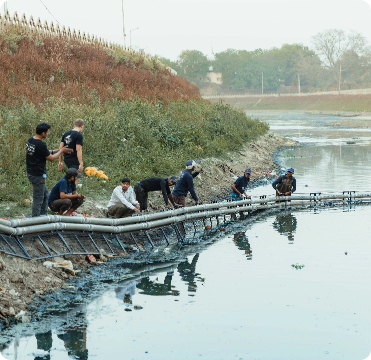 Reliable and customized technology is anchored and deployed according to the planning by the tech-team.Zuverlässige und zugeschnittene Technologie wird verankert und zu Wasser gebracht - so wie es das Tech-Team designed hat.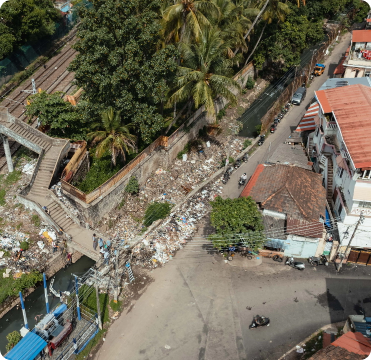 To understand the specifics of the river and the location even better, we use drones. We can detect potential challenges and identify the e.g. the site with the best access of the river.Um den besten Ort für unseren TrashBoom zu finden nutzen wir Drohnen. Es hilft uns dabei, den Fluss und die Gegebenheiten besser zu verstehen und zum Beispiel die Stelle zu finden, die den besten Zugang zum Wasser erlaubt.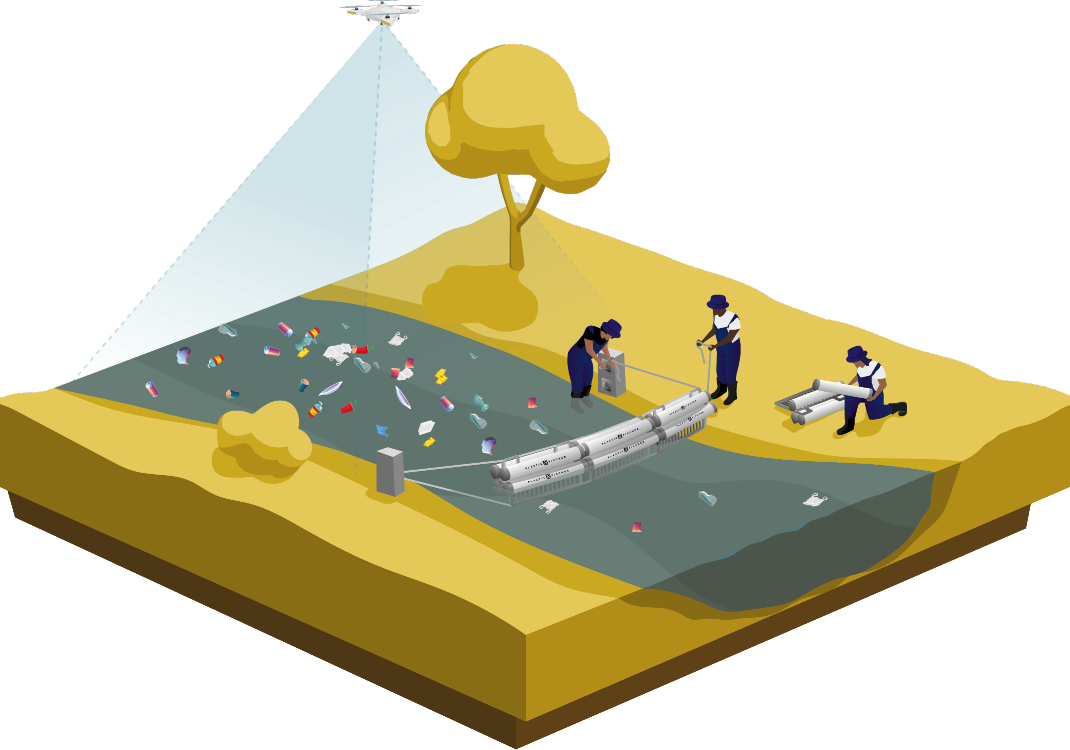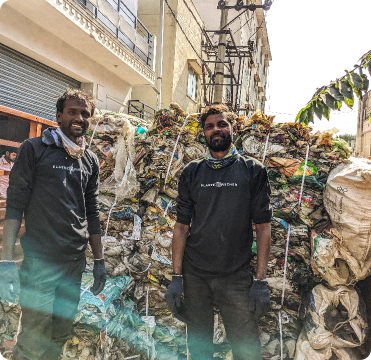 We transport people and River Plastic to and from all of our sites daily. In some sites, we have E-Rikshaws that we have to charge. In other sites we have scooters or tricycles that consume fuel.Wir transportieren täglich Menschen und River Plastic zu und von all unseren Systemen. An einigen Standorten haben wir E-Rikschas, die wir aufladen müssen. An anderen Standorten haben wir Motorroller oder Dreiräder, die Kraftstoff verbrauchen.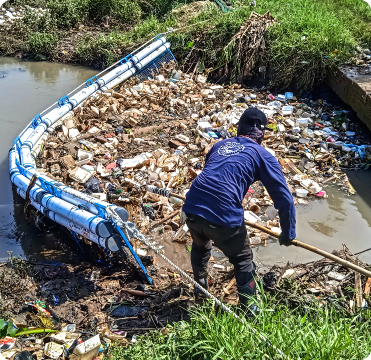 PLASTIC FISCHING
PLASTIC FISCHING
Our team has to empty most of our TrashBooms everyday. This is important to prevent smell, water borne diseases, floodings, and the systems from overloading. We remove more than 170.000 plastic bags from rivers every day!Unser Team muss die meisten unserer TrashBooms täglich leeren. Dies ist wichtig, um Geruchsbelästigung, durch Wasser übertragene Krankheiten, Überschwemmungen und eine Überlastung der Systeme zu verhindern. Wir sammeln jeden Tag mehr als 170.000 Plastiktüten aus den Flüssen!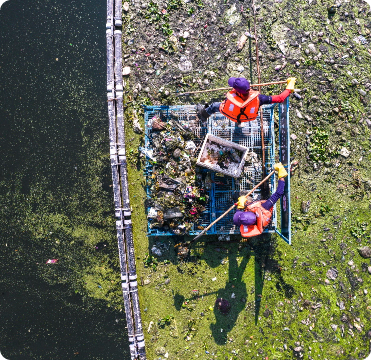 Our simple technology is extremely effective. We stop the vast majority of floating plastic while allowing marine life to pass the system underneath.Unsere einfache Technologie ist extrem effektiv. Sie stoppt das meiste, schwimmende Plastik, während Fische und andere Lebewesen drunterherschwimmen können.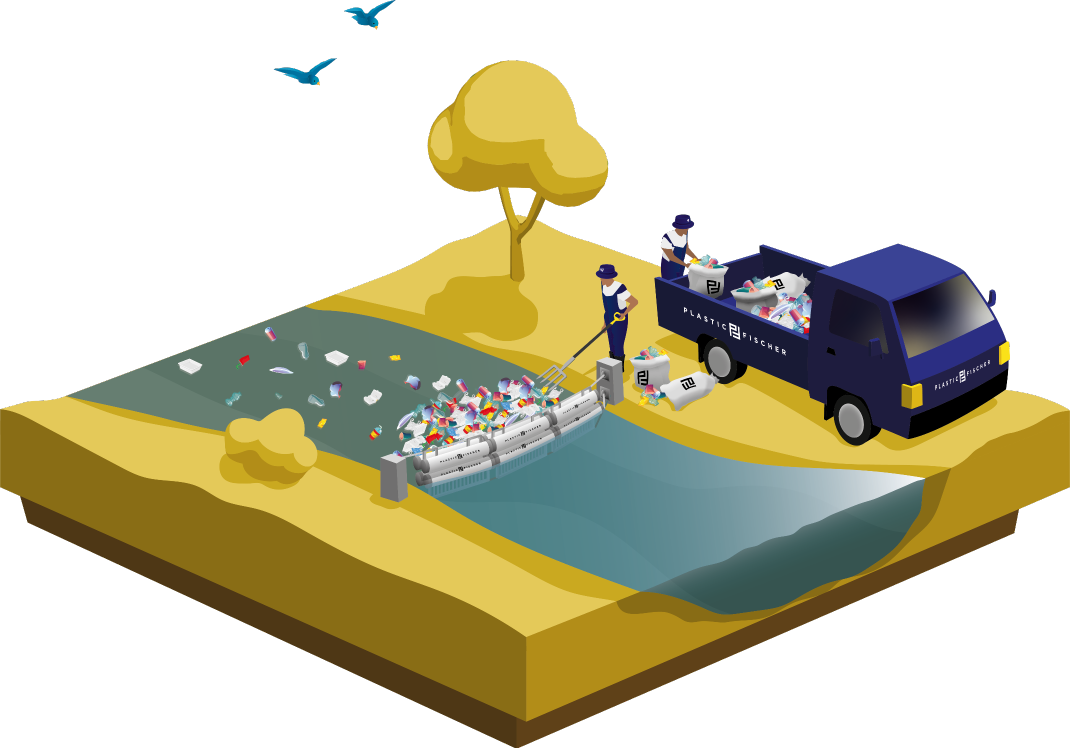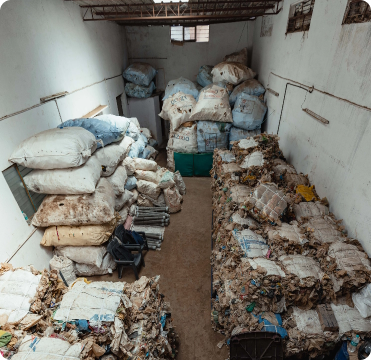 SORTING FACILITIES
SORTIERANLAGE
We rent warehouses that we turn into MRF's (Material Recovery Facilities). They have to be located strategically well - near most of our systems - which makes it sometimes a bit expensive.Wir mieten Lagerhäuser, die wir in Sortieranlagen verwandeln. Da sie in der Nähe der meisten unserer TrashBooms gelegen sein müssen, ist es manchmal gar nicht so günstig.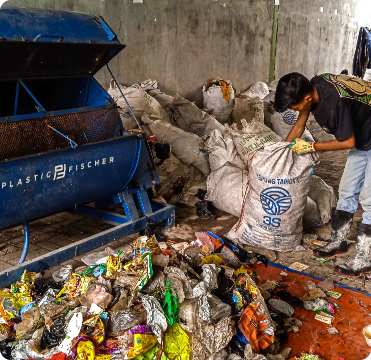 We bale (compress) it and prepare it for transportation to further processing.Wir komprimieren das Plastik und bereiten es für den Transport zur den Weiterverwertung vor.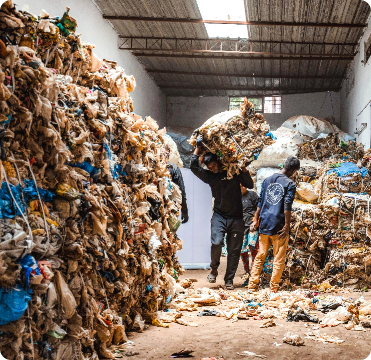 We separate recyclable from non-recyclable material. Glass, Aluminium, PET Bottles, and HDPE (like shampoo bottles) are sold to local recyclers and reintroduced into the supply chain. Unfortunately, 95% of the non-organic material is not recyclable - for example plastic bags and MLP's (Multilayer-Plastics/Sachets).Wir trennen recyclebare von nicht-recyclebaren Materialien. Glas, Aluminium, PET-Flaschen und HDPE (z. B. Shampooflaschen) werden vor Ort an Recyclingunternehmen verkauft und in die Wertschöpfungskette zurückgeführt. Leider sind 95 % des nicht-organischen Materials nicht recycelbar - zum Beispiel Plastiktüten und MLP (Multilayer-Plastics/Sachets).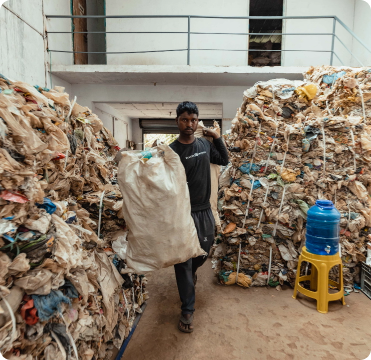 Before sorting the material, we dry it first. We use a drying machine that works similar to a salad spinner and drastically reduces the moisture content.Bevor wir das Material sortieren, trocknen wir es zunächst. Wir verwenden eine Trocknungsmaschine, die ähnlich wie eine Salatschleuder funktioniert und den Feuchtigkeitsgehalt drastisch reduziert.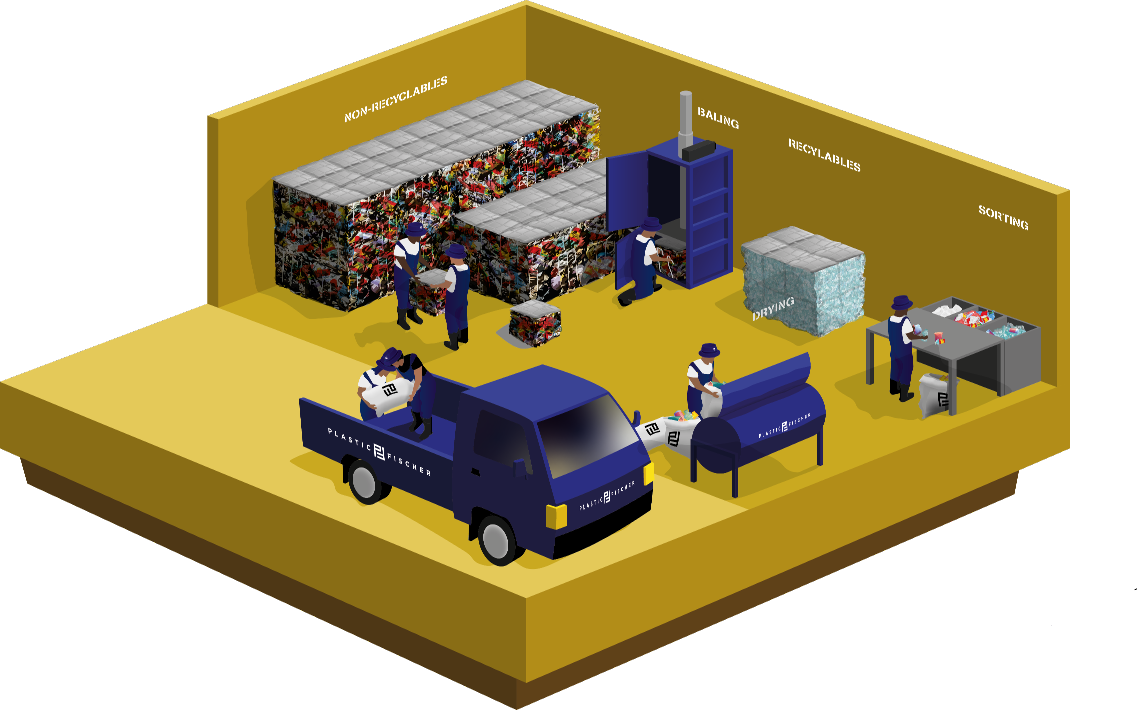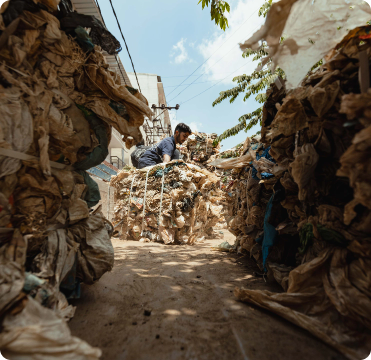 We regularly sell our recyclables to local off-takers.Wir verkaufen regelmäßig unser recyclebares Material vor Ort.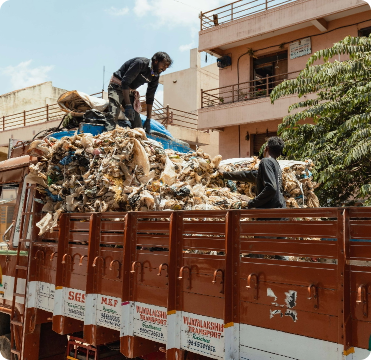 From the beginning, it was very important to us to keep track of our operations - and only communicate recovered kilograms of River Plastic that we can prove. Therefore, we work together with Empower.eco, a tracking platform that allows us to trace every gram from collection, over sorting, to the end-destination.Von Anfang an war es uns sehr wichtig, den Überblick über unsere Aktivitäten zu behalten - und nur Impact zu kommunizieren, den wir auch gemessen haben und beweisen können. Deshalb arbeiten wir mit Empower.eco zusammen, einer Tracking-Plattform, die es uns ermöglicht, jedes Gramm nachverfolgen zu können - Von Sammlung, über Sortierung bis zur Endstation.
CO-PROCESSING
CO-PROCESSING
Most of the collected material ends up in the rivers because it can not be recycled - in other words: it has no value. We decided against letting it end up in rivers and oceans (obviously) or landfilling. The best solution we currently have is using the plastic as energy source, supplementing the use of fossile fuels (coal). It is incinerated and the energy is recovered from this process. We pay for the transportation to cement plants and often even have to pay a fee per ton of plastic that is co-processed. In return, we receive the guarantee and certificate, that the material is handled in their facility. It is absolutely clear that this process is not the perfect solution, but better than all the alternatives we have. Please feel free to reach out and help us do better!Der größte Teil des gesammelten Materials landet in Flüssen, weil es nicht recycelt werden kann - mit anderen Worten: weil es wertlos ist. Wir haben uns dagegen entschieden, es in Flüssen und Ozeanen oder auf Mülldeponien landen zu lassen. Die beste Lösung, die wir derzeit haben, ist die Nutzung des Plastiks als alternative Energiequelle zu fossilen Brennstoffen (Kohle). Es wird verbrannt und die entstehende Energie wird genutzt. Wir zahlen für den Transport zu den Zementwerken oft auch eine Gebühr pro Tonne Plastik, die in den Anlagen verwertet wird. Im Gegenzug erhalten wir eine Garantie und ein Zertifikat, dass das Material in der Anlage wie vereinbart verwertet wird. Es ist völlig klar, dass dieses Verfahren nicht die perfekte Lösung ist, aber es ist die beste Lösung, die wir aktuell zur Verfügung haben. Melde dich gerne und hilf uns dabei, es besser zu machen!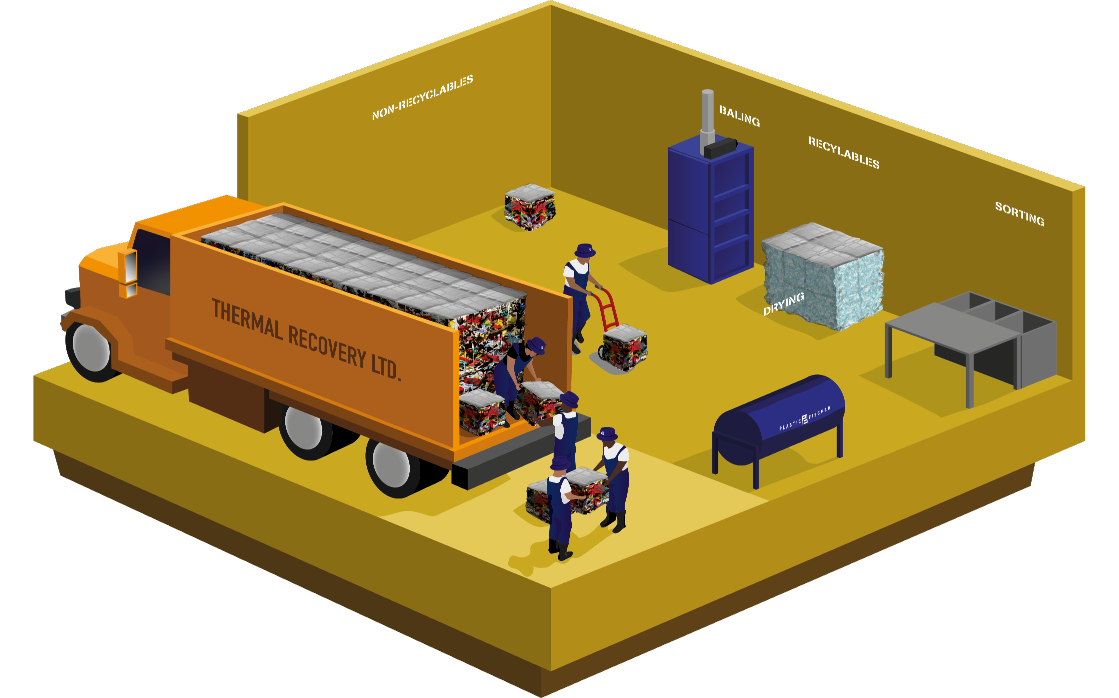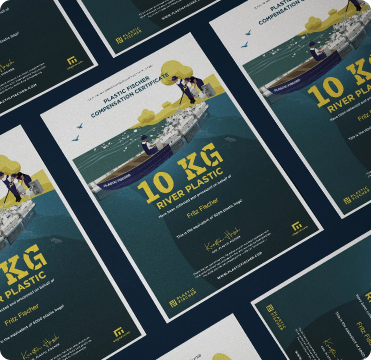 BECOME A PLASTIC FISCHER
WERDE EIN PLASTIC FISCHER
You can support all of these steps by becoming a Plastic Fischer. Every Euro finances the end-to-end operations of 1kg of River Plastic. Thank you!Du kannst jeden Schritt unserer Arbeit unterstützen, indem du ein Plastic Fischer oder eine Plastic Fischerin wirst! Jeder Euro finanziert die gesamte Arbeit von einem Kilogramm River Plastic. Danke!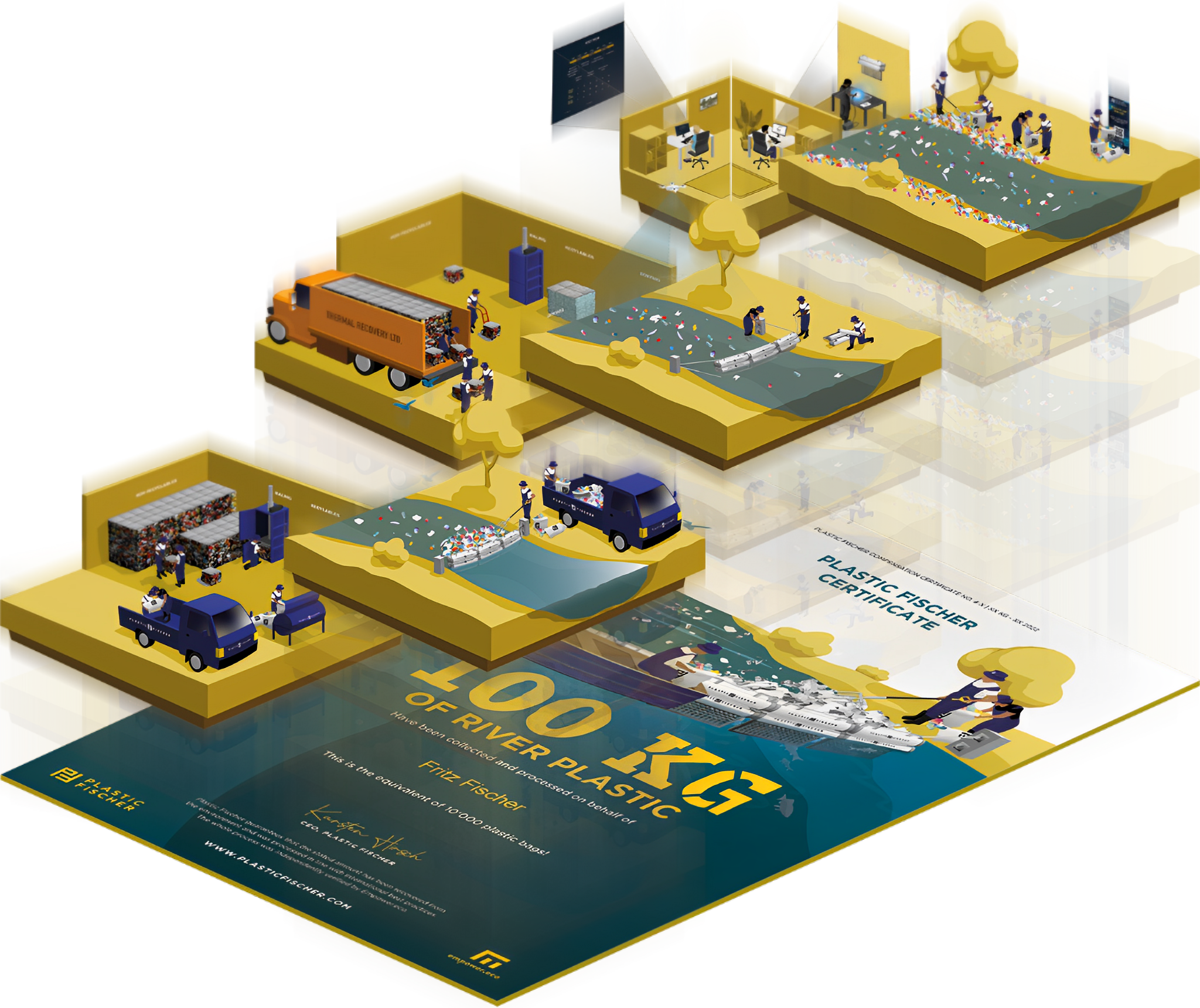 No Greenwashing!

We only communicate what we can measure and prove. By binding every sponsor to communicate fact-based, we want to avoid any kind of greenwashing. If a company decides to support us, it has to communicate the extent of support.

Example:
Company X finances the collection and processing of 50 Tons of River Plastic. X can not say: We are sustainable, because we support Plastic Fischer. X can say: Thanks to Plastic Fischer, we can recover and process 50 tons of River Plastic that otherwise would have ended up in the oceans.

We protect both sides with this! No one can blame us or you for not telling the truth. Wir kommunizieren nur, was wir messen und beweisen können. Indem wir jeden Sponsor verpflichten, faktenbasiert zu kommunizieren, wollen wir jede Art von Greenwashing vermeiden. Wenn ein Unternehmen beschließt, uns zu unterstützen, muss es den Umfang der Unterstützung mitteilen.

Beispiel: Unternehmen X finanziert die Sammlung und Verarbeitung von 50 Tonnen Flussplastik. X kann nicht sagen: Wir sind nachhaltig, weil wir Plastic Fischer unterstützen. X kann sagen: Dank Plastic Fischer können wir 50 Tonnen Flussplastik zurückgewinnen und verarbeiten, die sonst in den Ozeanen gelandet wären.

Damit schützen wir beide Seiten! Niemand kann uns oder Ihnen vorwerfen, dass wir nicht die Wahrheit sagen.

No SDG-washing!

We primarily focus on SDG 14 - Life below water More specifically: 14.1: "By 2025, prevent and significantly reduce marine pollution of all kinds, in particular from land-based activities, including marine debris and nutrient pollution."

Additionally, we tackle SDG 6 - Clean water and Sanitation. More specifically 6.3: "By 2030, improve water quality by reducing pollution, eliminating dumping and minimizing release of hazardous chemicals and materials, halving the proportion of untreated wastewater and substantially increasing recycling and safe reuse globally." Plastic Fischer konzentriert sich in erster Linie auf SDG 14 - Leben unter Wasser.
Genauer gesagt: 14.1: "Bis 2025 Meeresverschmutzung jeglicher Art, insbesondere durch Aktivitäten an Land, einschließlich Meeresmüll und Nährstoffverschmutzung, verhindern und erheblich reduzieren."

Außerdem befassen wir uns mit SDG 6 - Sauberes Wasser und sanitäre Einrichtungen. Genauer gesagt: 6.3: "Bis 2030 die Wasserqualität verbessern, indem wir die Verschmutzung reduzieren, die Freisetzung gefährlicher Chemikalien und Materialien minimieren, den Anteil unbehandelter Abwässer halbieren und das Recycling und die sichere Wiederverwendung weltweit erheblich steigern."